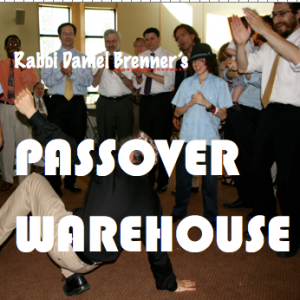 Welcome to the Passover Warehouse! That's right folks, you're ONE STOP SHLEPPING for all the ridiculous bargains you look for in the Passover aisle!
We got a fantastic play/skit that reviews the key points of the Exodus narrative for the seder. featured by PJ Library
We got a collection of clean jokes for your seder. featured on Haggadot.com
We have a quirky poem you could add to your seder. Popular with fans of Michael Jackson 
And, wait, what's this? We got a e-book short novel perfect for the 8-11 year old kinderlach in your life to read before the seder on their magic pad. on Amazon
Oh, and we got some musical inspiration to groove to while you make your charoset. viaYoutube
And speaking of charoset, here were my wine recommendations when I was the official wine tasting rabbi for the Wall Street Journal. 
But wait! There's more!
Some great meaning-of-the-holiday reading material to simmer in while you are digesting the meal.
Including an amazing reflection on contemporary slavery by a brilliant young woman. Who happens to be my daughter
And best of all, we have a kid's video for ages (3-6) made by my very own sons! featured on Jewtwins.com
All material one hundred percent original content produced and distilled by the Association of Brenner Family Members for Jewish Cultural Advancement.
Wishing you a Zissen Pesach!
Rabbi Daniel Brenner
A video for Middle School and High School students about birth control in Jewish law.
I had the pleasure of being part of the 25th anniversary of Judith Plaskow's Standing Again at Sinai at B'nai Jeshurun in Manhattan. Here's a little interview they did of me reflecting on some of my thoughts on gender.
A snippet of musical madness from a really great party.
Some songs just stop you in your tracks. "Wildebeest" by Amythyst Kiah is one of those songs. The tune begins with a two chord progression usually heard in flamenco music – a simple and raw meditative riff that Kiah lets play for a minute for full hypnotic effect.  When the tune shifts into a Delta blues mode, the fine finger-picking starts to have an emotional life, setting the stage for Amythyst Kiah's original yet traditional blues lyric of spurned love, homicidal threats, bittersweet memory, and loss. The vocals are reminiscent of the smooth voiced blues singers of the 90s – like Tracy Chapman or Robert Cray – who sought inspiration from an earlier blues era – but with a little added bite. And when the blues are done, and Kiah tells the spurned lover to go find someone else to prey upon, the song shifts back into the flamenco style, ending without resolving the chord progression. All this is to say that the American blues is alive and well in Johnson City, Tennessee. Footnote: I discovered this song because I entered the NPR TIny Desk Concert Contest. A contest I have no chance of winning because of Amythyst Kiah and a dozen other crazy talented musicians. So I concede. Amythyst deserves the spotlight.
This "epic" Father – Daughter Bat Mitzvah Dance Video is in the "dancing through the decades" style. One of the most joyous moments of my life…and I think my daughter had fun. 🙂

Fifty years ago, accepting the Nobel Prize for Peace, the Reverend Dr. Martin Luther King Jr. made a bold statement about non-violence. On that day in Stockholm, he argued that non-violence was not simply a protest tactic to overcome the oppression of his time but a new way for humans to exist together:
"Nonviolence is the answer to the crucial political and moral questions of our time: the need for man to overcome oppression and violence without resorting to oppression and violence. Man must evolve for all human conflict a method which rejects revenge, aggression and retaliation. The foundation of such a method is love."
Reading these words to a group of European dignitaries, all of whom had lived through the brutality of the Second World War, Dr. King's message sounds spiritually uplifting, messianic and, truthfully, somewhat naive. Can humans really evolve beyond revenge, aggression, and retaliation? Are there examples when "love" built a foundation that really succeeded on a societal level? Or is his vision another fantasy? Continue reading "Was MLK Wrong About Non-Violence?"