Rabbi Daniel Brenner
Daniel S. Brenner was born and raised in Charlotte, North Carolina. He received a B.A. in Philosophy from the University of Wisconsin, studied in Jerusalem at the Pardes Institute for Jewish Studies, and earned both an M.A. and rabbinic title from the Reconstructionist Rabbinical College.
After rabbinical school, Brenner studied with the Modern Orthodox theologian Rabbi Yitz Greenberg and went on to serve on the faculty of CLAL- The National Jewish Center for Learning and Leadership from 1998 – 2003. At CLAL he authored works on medical ethics with Joseph Fins MD (Chief of the Division of Medical Ethics at Weill Cornell Medical College) and Rabbi Tsvi Blanchard  (Embracing Life and Facing Death, A Jewish Guide to Palliative Care, 2002. Preface by Senator Joe Lieberman) on spirituality with the late Rabbi Zalman Schachter-Shalomi, and on a variety of Jewish topics for periodicals including The Forward, Spirituality & Health, Beliefnet, and The Jewish Week. Brenner also served as co-director of CLAL's program for rabbinical and graduate students.
In 2003, Brenner became the first Rabbi to direct a center of learning at Auburn Theological Seminary, a historic Presbyterian seminary on Manhttan's Upper West side. At Auburn, Brenner spearheaded the creation of the nation's first doctoral level program for clergy who work in the context of religious diversity, developed a program for religious leaders with Columbia University's Center for the Study of Science and Religion, and created a religious diversity curricula for Face to Face/Faith to Faith, Auburn's international youth leadership program.  Brenner was also at the epicenter of an effort to stop anti-Israel divestment in the Presbyterian Church (USA) and his efforts in this debate garnered him a Simon Rockower Award for Excellence in Jewish Journalism.
In 2007, Brenner became the vice president, education of the Birthright Israel Foundation and the founding executive director of Birthright Israel NEXT, an organization dedicated to engaging young adults in Jewish community life. Under his guidance, Birthright Israel NEXT grew to become a national organization with programs that reached over 50,000 young Jewish adults each year. As part of this effort, Brenner launched Next Shabbat, a grassroots program that sponsored over 20,000 home-hospitality events, brought on HBO Def Poetry Jam artist Vanessa Hidary to direct The Birthright Monologues and worked with Nextbook and Toby Press to develop the anthology "What We Brought Back." In 2009, he was named by Newsweek Magazine as one of America's fifty most influential rabbis.
In 2011, Brenner left Birthright Israel to join the Jewish educational organization Moving Traditions. During the past five years, Brenner has built a national educational program for teen boys, entitled Shevet Achim: The Brotherhood, which aims to reverse the trend of young Jewish men disconnecting from the community following bar mitzvah. The program is now active in over a hundred Jewish communities.
In addition to being a Rabbi, Brenner is a published playwright  and essayist and his commentaries have appeared in the New York Times, Chicago Tribune, Jerusalem Post, KtB, Huffington Post, Iconia and NPR's Infinite Mind. In 2012, he had the pleasure of serving as the official Rabbi for the Wall Street Journal's Passover wine tasting, an event that may have indirectly led to his launching the dance craze Klezmer Aerobics.
Wikipedia entry: Daniel Brenner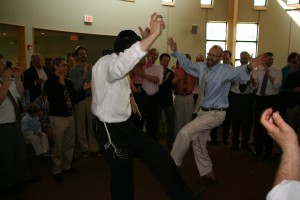 A NOTE ON MY RABBINIC AND CHAPLAINCY WORK
For the last seventeen years I have been an active member and volunteer at Congregation B'nai Keshet in Montclair, NJ. I occasionally serve as a scholar-in-residence at other congregations, officiate at baby naming ceremonies, weddings or funerals, or serve in other rabbinic capacities. In the past, I have served as a community rabbi of String of Pearls Congregation, Princeton, NJ (2000-2007) and Mishkan Ha'Am, Westchester, NY (1998-2000); as a student rabbi: Congregation B'nai Abraham, Bordentown, NJ (1995-97); a volunteer prison chaplain: Montgomery County Correctional Facility, Eagles Point, PA (1997); a nursing home chaplain: Philadelphia Geriatric Center, Philadelphia, PA (1996); and an emergency room and intensive care chaplain: Thomas Jefferson University Hospital, Philadelphia, PA (1995.)