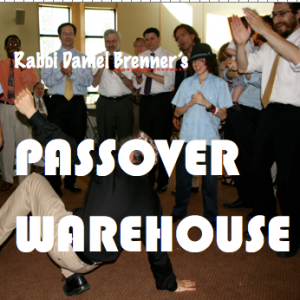 Welcome to the Passover Warehouse! That's right folks, you're ONE STOP SHLEPPING for all the ridiculous bargains you look for in the Passover aisle!
We got a fantastic play/skit that reviews the key points of the Exodus narrative for the seder. featured by PJ Library
We got a collection of clean jokes for your seder. featured on Haggadot.com
We have a quirky poem you could add to your seder. Popular with fans of Michael Jackson 
And, wait, what's this? We got a e-book short novel perfect for the 8-11 year old kinderlach in your life to read before the seder on their magic pad. on Amazon
Oh, and we got some musical inspiration to groove to while you make your charoset. viaYoutube
And speaking of charoset, here were my wine recommendations when I was the official wine tasting rabbi for the Wall Street Journal. 
But wait! There's more!
Some great meaning-of-the-holiday reading material to simmer in while you are digesting the meal.
Including an amazing reflection on contemporary slavery by a brilliant young woman. Who happens to be my daughter
And best of all, we have a kid's video for ages (3-6) made by my very own sons! featured on Jewtwins.com
All material one hundred percent original content produced and distilled by the Association of Brenner Family Members for Jewish Cultural Advancement.
Wishing you a Zissen Pesach!
Rabbi Daniel Brenner